History tells us that Arabs went from place to place either for trade or propagation of Islam, or both, or for seeking knowledge. During these travels, they needed more frequent places of rest than the towns and villages could provide.
These ancient desert caravans used to stop at specially built inns called caravanserais (also called khans). Arabs also came to India for trade and they needed such inns on a regular basis.
There are no vestiges of such inns anywhere – except one in New Delhi called Arab Ki Sarai within the premise of Humayun's Tomb Complex on Mathura Road, which was in a dilapidated state.
The sandstone necropolis of Mughal dynasty, the Humayun's Tomb built in the 1560s, is one the finest specimen of Indo-Islamic architecture.
Restored to old glory
The Aga Khan Trust for Culture (AKTC), which focuses on the physical, social, cultural and economic revitalization of communities in the developing world, has recently restored this Arab Ki Sarai to its pristine glory.
Just before restoration, the evocative gateway of a walled enclosure built in the 17th century by Hamida Banu Begum was one of few reminders of sturdy, walled roadside caravanserai compound that were in vogue in those bygone days.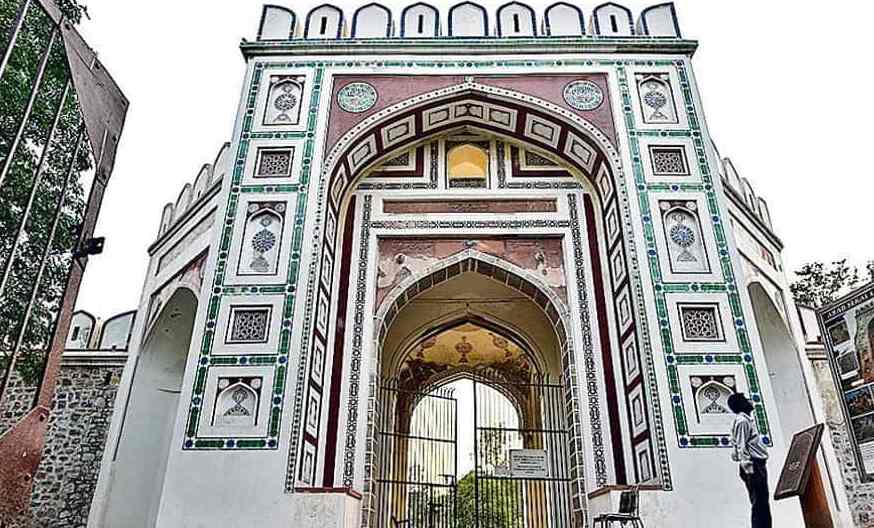 Arab Ki Sarai now sports a fresh look having retained the old elements. (Supplied)
The lofty eastern gateway of a walled enclosure built in the 17th century – which was originally a market built during Jahangir's reign alongside Arab Ki Sarai, Nizamuddin East – now sports a fresh look having retained the old elements.
Arab Ki Sarai has a central arch flanked by projecting balconies that are supported by carved brackets. This 13 meter-high, five-arched gateway, topped with battlements is two-bay deep. It also has chambers and a domed roof flanked by niches on both sides.
The spandrels are ornamented with detailed tile work and medallions bearing Quranic inscriptions. The niches were almost getting dismembered from the main structure and needed repair badly while the area was full of green moss and wild vegetation.
All these now been taken care of by the Aga Khan Trust for Culture (AKTC), which began restoration work in January 2017.
Quranic inscriptions
According to Ujwala Menon, AKTC's conservation architect, several cracks allowed water penetration resulting in dampness and salt deposits. "Quranic inscriptions got hidden under the layer of cement plaster, tiles were missing and portions of the roof of the gateway had collapsed," says Memon.
Menon says sadly, not all of the artwork could be restored as evidence had been lost. "As a result, central ceiling medallion had to be left blank. Some of the newspaper articles dating back to 1960s suggest that its walls were adorned with paintings but that could not be restored," she says.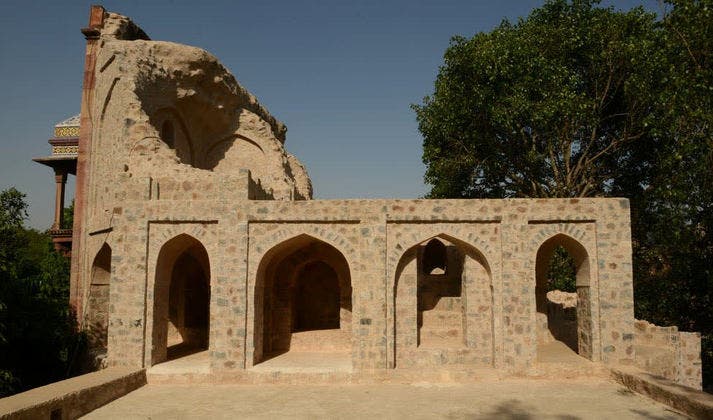 The Aga Khan Trust for Culture (AKTC) has restored this Arab Ki Sarai to its pristine glory. (Supplied)
We learn from the pages of history that the high gateway that served as the southern entrance of the Arab Ki Serai – built to accommodate the 300 craftsmen whom Hamida Banu Begum, had brought with her on her return from pilgrimage to Mecca now adorn a graceful look after restoration.
These craftsmen were involved in the building of Humayun's Garden-Tomb. Conservation works included conservation of the main wooden doorway, conservation of the stone façade, reconstruction of the partially collapsed entrance chamber, conservation of the chambers at ground floor.
Pages from history
Author Mirza Sangin Beg, writing in a Persian book Sair-ul-Manazil (Tulika Books) in the 1820s, refers this inn as "property of Arabs and other general populace."
Author Ranjan Kumar Singh – in his book The Islamic Monuments of Delhi – writes that the Arab Ki Saraiconsists of a large enclosure adjoining the south-west corner of Humayun's tomb. It is divided by two quadrangles by a series of cells provided with a gateway in the center.
Immediately outside its lofty eastern entrance approached by a gateway from the east, with traces of paintings on its underside, is the second quadrangle, originally bounded by arched cells, which is known as the mandi (market) which was added by Mir Banu Agha.
Courtesy: english.alarabiya.net
Let the Truth be known. If you read VB and like VB, please be a VB Supporter and Help us deliver the Truth to one and all.
---
---
Bengaluru, Aug 19: Former Karnataka Chief Minister H D Kumaraswamy on Monday said he was not afraid of any probe into the phone tapping allegations, as he accused the BJP government of running a "transfer business" in the State.
The JDS leader's statement triggered a war of words with chief minister B Yeddiyurappa's son B Y Vijayendra saying it was not appropriate to make "baseless allegations."
Yediyurappa, however, said he was not going to react to the charges.
"Why do you want to put words in my mouth? May God bless him. The whole world knows what he has done..," he told reporters.
It all started with Kumaraswamy's purported statement on Sunday that Yediyurappa had left his sons to run the 'transfer businesses' as reported by some news channels.
Taking a serious note of it, Vijayendra tweeted the clipping of Kumaraswamy's statement as it appeared in a Kannada news channel, which read that Yediyurappa has "let his son loose to run the transfer business."
"...You cannot pass the buck on somebody else for your deeds. Stop trying to mislead the people through falsehood just because you are scared of the CBI probe into the telephone tapping case," he said.
Vijayendra also tweeted links to news reports that claimed the then PWD minister H D Revanna had transferred 700 officials on a single day last year when Kumaraswamy was the chief minister.
Later, speaking to reporters in Bengaluru, Vijayendra slammed Kumaraswamy for making "baseless allegations" against him and his family.
"It is not appropriate to make baseless allegations against me and our family. It does not befit his stature," Vijayendra said.
He challenged Kumaraswamy to make the facts public if he has evidence to back his claim.
"People have seen how during your tenure governance had collapsed due to the involvement of your family. People of the state have seen how 700 staff in the PWD were given promotion and transferred," Vijayendra said.
Reacting, Kumarasawmy cautioned chief minister Yediyurappa to keep his children "within their limits."
He alleged that the chief ministers residence has turned into a "transfer market" these days.
Speaking about the governments intention to conduct a CBI probe into the alleged phone tapping, Kumaraswamy said he was not scared of any probe because he did not do anything wrong.
However, he asked the chief minister not to fix innocent people only to take revenge on him.
Days after phone tapping allegations during the previous Congress-JDS coalition government surfaced, Yediyurappa on Sunday said he will order a CBI probe citing demands by several political leaders including from the Congress.