History tells us that Arabs went from place to place either for trade or propagation of Islam, or both, or for seeking knowledge. During these travels, they needed more frequent places of rest than the towns and villages could provide.
These ancient desert caravans used to stop at specially built inns called caravanserais (also called khans). Arabs also came to India for trade and they needed such inns on a regular basis.
There are no vestiges of such inns anywhere – except one in New Delhi called Arab Ki Sarai within the premise of Humayun's Tomb Complex on Mathura Road, which was in a dilapidated state.
The sandstone necropolis of Mughal dynasty, the Humayun's Tomb built in the 1560s, is one the finest specimen of Indo-Islamic architecture.
Restored to old glory
The Aga Khan Trust for Culture (AKTC), which focuses on the physical, social, cultural and economic revitalization of communities in the developing world, has recently restored this Arab Ki Sarai to its pristine glory.
Just before restoration, the evocative gateway of a walled enclosure built in the 17th century by Hamida Banu Begum was one of few reminders of sturdy, walled roadside caravanserai compound that were in vogue in those bygone days.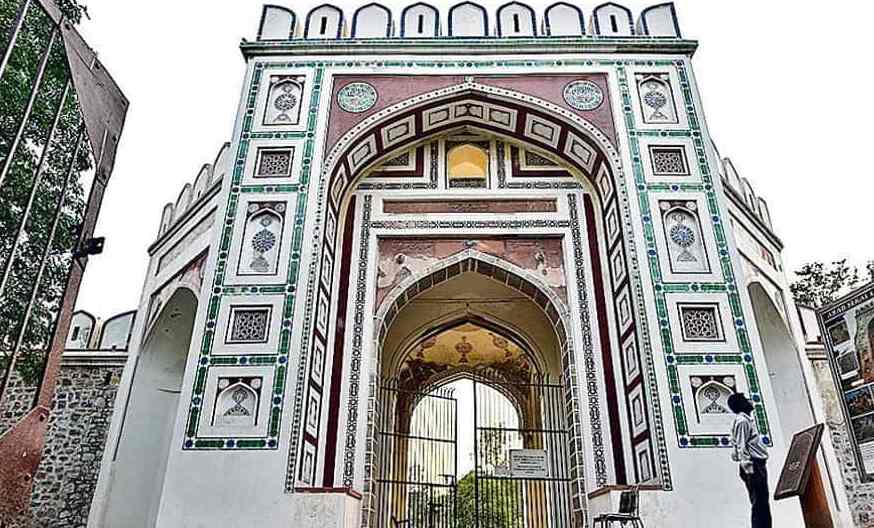 Arab Ki Sarai now sports a fresh look having retained the old elements. (Supplied)
The lofty eastern gateway of a walled enclosure built in the 17th century – which was originally a market built during Jahangir's reign alongside Arab Ki Sarai, Nizamuddin East – now sports a fresh look having retained the old elements.
Arab Ki Sarai has a central arch flanked by projecting balconies that are supported by carved brackets. This 13 meter-high, five-arched gateway, topped with battlements is two-bay deep. It also has chambers and a domed roof flanked by niches on both sides.
The spandrels are ornamented with detailed tile work and medallions bearing Quranic inscriptions. The niches were almost getting dismembered from the main structure and needed repair badly while the area was full of green moss and wild vegetation.
All these now been taken care of by the Aga Khan Trust for Culture (AKTC), which began restoration work in January 2017.
Quranic inscriptions
According to Ujwala Menon, AKTC's conservation architect, several cracks allowed water penetration resulting in dampness and salt deposits. "Quranic inscriptions got hidden under the layer of cement plaster, tiles were missing and portions of the roof of the gateway had collapsed," says Memon.
Menon says sadly, not all of the artwork could be restored as evidence had been lost. "As a result, central ceiling medallion had to be left blank. Some of the newspaper articles dating back to 1960s suggest that its walls were adorned with paintings but that could not be restored," she says.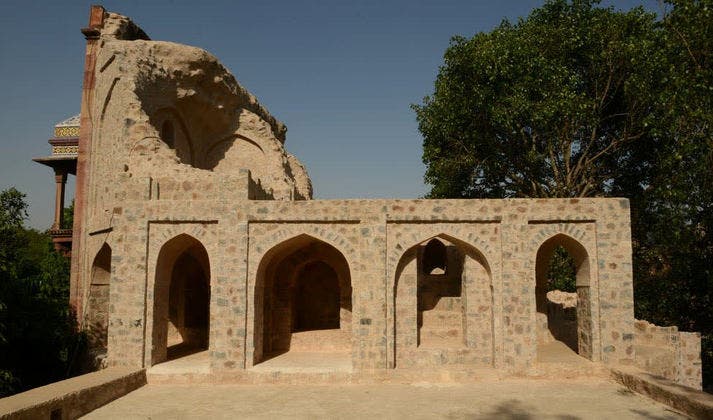 The Aga Khan Trust for Culture (AKTC) has restored this Arab Ki Sarai to its pristine glory. (Supplied)
We learn from the pages of history that the high gateway that served as the southern entrance of the Arab Ki Serai – built to accommodate the 300 craftsmen whom Hamida Banu Begum, had brought with her on her return from pilgrimage to Mecca now adorn a graceful look after restoration.
These craftsmen were involved in the building of Humayun's Garden-Tomb. Conservation works included conservation of the main wooden doorway, conservation of the stone façade, reconstruction of the partially collapsed entrance chamber, conservation of the chambers at ground floor.
Pages from history
Author Mirza Sangin Beg, writing in a Persian book Sair-ul-Manazil (Tulika Books) in the 1820s, refers this inn as "property of Arabs and other general populace."
Author Ranjan Kumar Singh – in his book The Islamic Monuments of Delhi – writes that the Arab Ki Saraiconsists of a large enclosure adjoining the south-west corner of Humayun's tomb. It is divided by two quadrangles by a series of cells provided with a gateway in the center.
Immediately outside its lofty eastern entrance approached by a gateway from the east, with traces of paintings on its underside, is the second quadrangle, originally bounded by arched cells, which is known as the mandi (market) which was added by Mir Banu Agha.
Courtesy: english.alarabiya.net
Let the Truth be known. If you read VB and like VB, please be a VB Supporter and Help us deliver the Truth to one and all.
---
---
Chennai, Apr 23: Shane Watson brought back memories of last year's IPL final with a blazing knock that has now almost ensured a play-off berth for Chennai Super Kings as they beat Sunrisers Hyderabad by six wickets here Tuesday.
On a vastly improved Chepauk track, Watson roared back to form with an 96 off 53 balls as CSK stuttered a bit in end before winning in 19.5 overs.
Watson's innings studded with nine fours and half a dozen of sixes ensured that CSK have reached the cut-off limit of 16 points needed for the play-off even though they would like to finish in the top two.
Watson's innings would also be a relief for skipper Mahendra Singh Dhoni, who had urged the top order to finish matches.
A 77-run stand between Watson and Suresh Raina (38) created the platform and the former Australia all-rounder singlehandedly decimated the Sunrisers attack.
What made it more difficult for the Sunrisers was the fact that their strike bowler Rashid Khan was pulverised by Watson, who took him to the cleaners with 44 coming off his spell.
Sandeep Sharma was another bowler, who was handed severe punishment as he went for 54 in 3.5 overs. Sandeep repeatedly bowled short and Watson would gleefully pull him. Skipper Bhuvneshwar Kumar (1/18 in 4 overs) had no option but to bowl the 19th over and left Sandeep with nine runs to defend.
However Kedar Jadhav literally finished the match with a six off the second ball that sealed the deal.
Earlier, the immensely talented Manish Pandey was back in his element as his unbeaten 83 off 49 balls powered Sunrisers Hyderabad to a fighting 175 for 3 after being put into bat.
Pandey and league's current leading run-scorer David Warner (57 off 45 balls) added 115 runs for the second wicket to lay the foundation for a decent score on what was the best batting track on offer at the Chepauk.
Veteran spinner Harbhajan Singh struck an early blow, having the in-form Jony Bairstow caught behind in the second over for a duck.
He was the most successful bowler with figures of 2 for 39 in four overs while Deepak Chahar picked up the wicket of Vijay Shankar (26 off 20 balls).
Despite the early dismissal of Bairstow, the visiting team didn't get tied down as the irrepressible Warner and Manish Pandey kept hitting those boundaries and sixes. They brought up the team's 50 in the sixth over.
Pandey who has not been in the best form, hit his straps, scoring freely and was not afraid to go over the top. Dhoni's shuffling of the bowlers didn't make much of an impact as Warner and Pandey kept attacking.
Pandey was the first to reach 50 in 25 balls, pulling one from Dwayne Bravo for a boundary.
Warner was a touch slower in comparison to Pandey, but didn't miss out when the opportunity presented itself and hit a couple of big sixes.
The pugnacious Warner fell against the run of play, victim of Dhoni's trademark lightning quick stumping off a Harbhajan delivery. The Australian, who is leading the run charts this season, fell for 57 (45 balls, 3x4, 2X6) after adding 115 runs for the second wicket with Pandey.