New Delhi, Jan 8: A day after Deepika Padukone visited the JNU campus to express solidarity with students who had been attacked, her film "Chhapaak" made another splash on Wednesday over the name of its antagonist.
While Deepika was the focus of many a discussion on social media and beyond for showing up at a public meeting in the university, the film based on the life of acid attack survivor Laxmi Agarwal, was also making news for quite another reason.
In what could well be a storm in a 'Twitter cup', "Nadeem Khan" and "Rajesh" began trending on the microblogging site after a magazine article claimed the name of the antagonist had been changed. By 4 pm, 'Nadeem Khan' clocked close to 60,000 tweets and 'Rajesh' close behind with 50,000.
In 2005, Laxmi was disfigured for life when a man called Nadeem Khan and three others allegedly hurled acid at her in Delhi's upscale Khan Market.
In the film based on her life, the narrative remains the same but the names have been changed. So, Laxmi is 'Malti' Agarwal and Nadeem becomes 'Babboo' aka 'Bashir Khan'.
On Wednesday, Swarajya magazine wrote an article headlined, "The Ways Of Bollywood: In Deepika Padukone-Starrer Chhapaak, Acid Attacker Naeem Khan Becomes Rajesh'."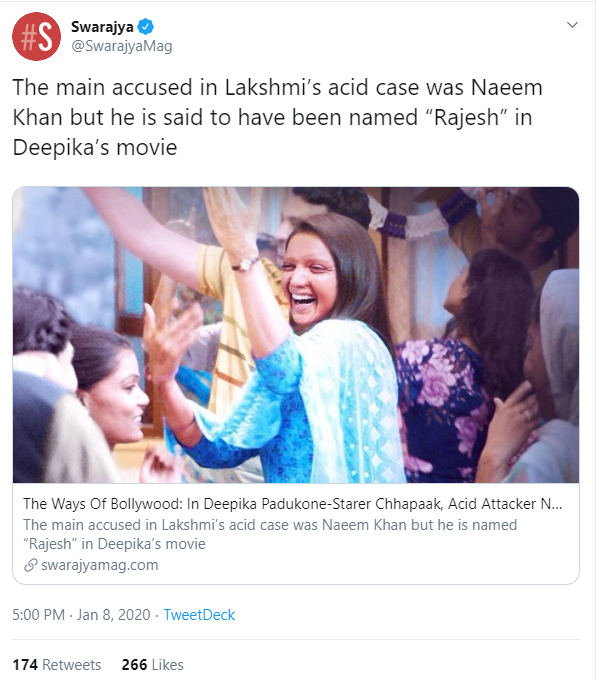 "As part of a backlash against Padukone's JNU 'meet and greet', social media users researched the names of the characters involved in the movie Chhapaak and conspicuously found the name of main perpetrator Naeem Khan absent," the article alleged.
But in the Meghna Gulzar directed film, there is no mention of any Nadeem or Naeem Khan. Moreover, Rajesh is the name of Malti's boyfriend.
Minister of State for Environment, Forest and Climate Change Babul Supriyo jumped into the controversy, saying it was another example of "absolute hypocrisy".
"...When you say all characters are fictitious and don't have any resemblance with living beings and all of that, this is absolute hypocrisy. When you change the name which also changes the religion, it has been done very deliberately," Supriyo told a TV channel when asked to comment on the controversy.
South Delhi BJP MP Ramesh Biduri also called for a boycott of the movie.
With Deepika grabbing attention by going to JNU, many appreciated her 'silent solidarity' but others criticised her for "supporting the Leftists" and said it was a promotional stunt ahead of the release.
"#Boycott Chhapaak" was trending on Twitter as was "#ISupportDeepika".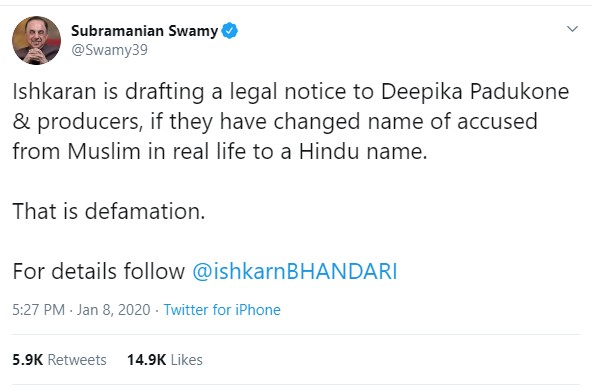 #Chhapaak trends on Twitter - and no its screen villain is neither 'Nadeem' nor 'Rajesh'.

Unlike the #FakeNews peddlers, I was fortunate to watch a special screening of the film last evening.

Here goes, my report for @PTI_News. https://t.co/HhNIEjRDya

— Radhika Sharma (@KhayalaBibi) January 8, 2020
Let the Truth be known. If you read VB and like VB, please be a VB Supporter and Help us deliver the Truth to one and all.
---
---
Rajkot, Jan 17: Shikhar Dhawan missed a well-deserved ton by a whisker but laid a solid platform for the aggressive duo of skipper Virat Kohli and KL Rahul to ensure a commanding total of 340 for 6 against Australia in the second ODI here on Friday.
Back in form since the last T20 encounter against Sri Lanka, the senior opener looked solid in his 90-ball-96 while Kohli, back at his familiar one drop position, held the middle-order with a 78 off 76 balls and Rahul (80 off 52 balls) provided the final flourish in what was much improved batting performance from the hosts.
While Dhawan added 81 for the opening stand with Rohit Sharma (42) who would regret this missed opportunity on a batting belter after getting set, the southpaw also had a vital 103-run stand with Kohli for the second wicket.
The Kohli-Rahul duo's 78-run partnership off 10.3 overs was also pivotal as it helped the latter to launch a final assault during the end overs.
While Dhawan's innings had 13 fours and a six, Kohli had six hits to the fence including a classic jab-flick off Pat Cummins (0/53 in 10 overs). Rahul's was a stand-out innings with six boundaries and three -maximums, one of which was a lofted cover drive off Mitchell Starc (0/78 in 10 overs), who had a forgettable day.
Adam Zampa (3/50 in 10 overs) was once again the stand-out performer taking Kohli out of equation for the seventh time in limited overs just when he was looking to get his 44th ODI ton.
At the start, Dhawan began with a bowler's bck-drive, giving a glimpse of what was in store. The southpaw completed his sixth fifty versus Australia in 60 balls as he played shots all around the ground.
The last time Dhawan scored successive fifties was in January 2019 against New Zealand. This was his 29th in 50-over cricket.
The left-hander was particularly harsh on left-arm spinner Ashton Agar (0-63 in 8 overs), whom he hammered for two successive fours in the 25th, a sweep and a reverse-sweep, and then in 27th over stuck a four and a six, not allowing him to settle down.
In fact the 77 runs from 10 overs bowled by fifth and sixth bowling option Marnus Labuschagne (0/14 in 2 overs) was the difference from the last game.
However, Dhawan missed out on his 18th ODI hundred by four runs when he pulled a Kane Richardson ball straight to fine leg in 29th over.
Shreyas Iyer (7) fell cheaply. But Kohli was in sublime touch as he ran the singles and doubles with intensity and also it the loose balls for boundary.