Dr. Shaweez Faizi is a consultant in gynaecology and reproductive medicine at Unity Hospital Mangaluru.
Infertility by definition is the inability of a couple to conceive a child after 1 year of unprotected sexual intercourse. With the advent of science and research in this particular field, many couples who believe they have infertility have been regrouped as being sub-fertile where there is only a delay in conceiving. Unlike any other medical condition, the diagnosis of subfertility is not made in a day.
The sub-fertile couple
For the couple, it gradually sinks in when they realize that they have not been able to bear a child one month after the other. A negative urine pregnancy test where they are hoping for that second line of confirmation to appear, even faintly! Or the start of your periods- A sign that you are not pregnant is the sign and stuff that triggers a feeling that cannot be put in words by the couple.
However, like any other long-standing problem, the stages are probably the same. The realization of the problem, denial, trying for a few more months may help, re-realization! And finally gradual acceptance of the issue.
Then comes the next step- The decision to meet a doctor for an opinion. Several rounds of discussion, frustration-filled months, and depression may follow. Hesitation to visit a clinic, social stigma associated with the problem, worries of expenditures involved in the treatment process may lead to further delay in addressing the problem.
As doctors, we feel the society needs a change in the mental setup for this issue. Of course, there are couples who are showing up earlier, seeking treatment for want of a baby, but the above said hurdles still exist in all strata of the community. For the mental setup to change and more people to come forward for treatment, one of the most important factors is awareness of the issue.
The following section is a set of FAQ's linked with infertility.
Q: Who should visit an infertility specialist?
A: A couple staying together and having unprotected intercourse with the inability of having conceived for 1 year.
Q: Should you consider visiting a specialist earlier than 1 year?
A: Yes, if the age of the female partner is ≥ 35years, if the couple suspects any underlying cause for infertility, it is advisable to get evaluated even 6 months after unprotected intercourse.
Q: What are the symptoms/pointers towards a potential underlying cause for infertility?
A: Female partner experiencing irregular, delayed periods/heavy bleeding/excessive pain during periods/during sexual intercourse. Male partner with difficulty in maintaining an erection/other coital difficulties.
Q: What to expect when visiting a fertility clinic?
A: Your preliminary visit will comprise a detailed history of your menstrual cycles/previous pregnancy details/past treatment history followed by initial hormonal evaluation, ultrasound, and semen analysis.
You will be explained in detail about the factors attributing to infertility for you as a couple and the possible treatment options.
For a better understanding, one must be aware of the natural process of conception/ becoming pregnant.
In a regularly menstruating woman, an egg is released between day 12 to day 14 of the menses cycle, which is carried by the fallopian tube. Following sexual intercourse after millions of sperms are released, the sperm must travel to the fallopian tube and fertilize the egg (in the fallopian tube). After fertilization, the embryo reaches the uterus 4 days later to attach to the inner uterine lining, following which the growth of the embryo occurs.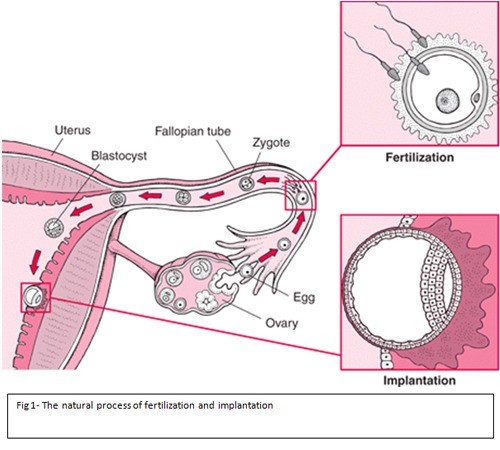 Depending on the risk factors/ pointers towards a problem, necessary investigations may need to be carried out and treatment will be planned accordingly.
Q: What can you do to contribute to better results in your treatment?
A: Lifestyle modifications such as maintaining a normal BMI, avoiding weight gain (both male and female partners), curtailing habits such as smoking/ consumption of alcohol/ junk foods will help a long way.
The process of evaluation and treatment for a couple with a fertility issue is a gradual one. Many investigations and treatments will be planned as per your menstrual cycles, few treatment results may need a follow up for even 3 to 6 months depending on the factors.
Hence it requires patience, persistence, and most of all a positive attitude by the couple to over the top of the issue goals.
Come start this journey with us and we assure you to guide you and partner in your journey towards parenthood. Meeting a fertility specialist is one of the several important steps you have to take to begin this journey so why postpone it for tomorrow!
Let the Truth be known. If you read VB and like VB, please be a VB Supporter and Help us deliver the Truth to one and all.
---
---
Washington, Nov 30: US President-elect Joe Biden on Monday named Janet Yellen as his Treasury Secretary and Indian-American Neera Tanden as Director of Office of Management and Budget, as he announced key members of his economic team.
If confirmed by the US Senate, Yellen, 74, will be the first woman to lead the Treasury Department in its 231-year history, and the first person to have served as Treasury Secretary, Chair of the Council of Economic Advisers, and Chair of the Federal Reserve. She has previously been confirmed by the Senate on four separate occasions.
Tanden, 50, if confirmed by the Senate, would be the first woman of colour and first Indian-American to lead the Office of Management and Budget (OMB).
Tanden's career has focused on pursuing policies designed to support working families, foster broad-based economic growth, and curb rampant inequality.
"Another proud day for Indian Americans to see Neera Tanden be nominated for a Cabinet level position in the next administration. This position at OMB is a wide-ranging role with broad powers to manage trillions of dollars of the US budget. If anyone had any doubts that our community has arrived politically, this election cycle is proof enough," Indiaspora founder M R Rangaswami, and an eminent philanthropist and venture capitalist, told PTI.
Announcing key members of his economic team, Biden also named Wally Adeyemo, as Deputy Secretary of the Treasury; Cecilia Rouse as Chair of the Council of Economic Advisers; and Jared Bernstein and Heather Boushey, as members of the Council of Economic Advisers. Biden would formally introduce his team on Tuesday.
This crisis-tested team will help Biden administration lift America out of the current economic downturn and build back better creating an economy that gives every single person across America a fair shot and an equal chance to get ahead, the transition said.
These choices reflect the president-elect's commitment to building an administration that looks like America, drawing on the diverse backgrounds and lived experiences of some of our nation's foremost economic experts, it said.
"As we get to work to control the virus, this is the team that will deliver immediate economic relief for the American people during this economic crisis and help us build our economy back better than ever," Biden said in a statement.
This team is comprised of respected and tested groundbreaking public servants who will help the communities hardest hit by COVID-19 and address the structural inequities in our economy, he said.
"They will work tirelessly to ensure every American enjoys a fair return for their work and an equal chance to get ahead, and that our businesses can thrive and outcompete the rest of the world. This team looks like America and brings seriousness of purpose, the highest degree of competency, and unwavering belief in the promise of America. They will be ready on day one to get to work for all Americans," Biden said.
According to Vice President-elect Kamala Harris, this outstanding economic team will help the Biden administration deliver on its commitment.
"They are not only some of America's most brilliant economic minds, they are also proven leaders who reflect the very best of our country," she said.
"And they share a fundamental commitment to ending this economic crisis and putting people back to work, while rebuilding our economy in a way that lifts up all Americans. With the selection of these crisis-tested public servants, the American people are getting the economic team they need and deserve," Harris said.
Adeyemo, a veteran of the Executive Branch and expert on macro-economic policy and consumer protection with deep national security experience, has previously served as Deputy Director of the National Economic Council, Deputy National Security Advisor, and the first Chief of Staff of the Consumer Financial Protection Bureau.
If confirmed, Adeyemo would be the first African-American Deputy Secretary of the Treasury.
Rouse is a leading labour economist and the Dean of the Princeton School of Public and International Affairs. She has previously been confirmed by the Senate as a member of the CEA in 2009. If confirmed, she will become the first African-American and just the fourth woman to lead the CEA in the 74 years of its existence.
Bernstein had previously served as Chief Economist to President-elect Biden in the first years of the Obama-Biden administration. Heather Boushey is a distinguished economist focused on economic inequality and the President, CEO, and co-founder of the Washington Center for Equitable Growth.