New Delhi, July 13: Most three-years-old may find it difficult to even form a sentence, but not child prodigy Chryseis Knight who holds the rare distinction of being one of the youngest authors in the world.
"The Great Big Lion", drawn and written by child prodigy Knight, is a story about lion and two children. It talks about friendship, inclusivity, wildlife conservation and the world of imagination.

Earlier published independently abroad, the book was released on Monday for the first time in India under Penguin Random House India's 'Puffin' imprint.

Knight, who is currently residing in Canada, learnt how to read at the age of one, started writing the story of "The Great Big Lion" in her notebook when she was three years old. She then shared it with her family and became determined to do the artwork with the motivation of getting the book published.

Now seven-years-old, she hopes to inspire children all around the world to embrace the magic in books.

"Tremendously excited that we are publishing this unique book that was written and illustrated by Chryseis when she was merely three! Her writings have an endearing quality; it speaks to children and resonates with them, and the themes she covers are wide-ranging: from wildlife conservation to developing empathy. It is not surprising that she was inducted into Mensa at age two for her linguistic talents. She's exceptionally gifted and we look forward to her writing career as she grows up," said Arpita Nath, commissioning editor, Penguin Random House.

The book is available for sale on online and offline stores.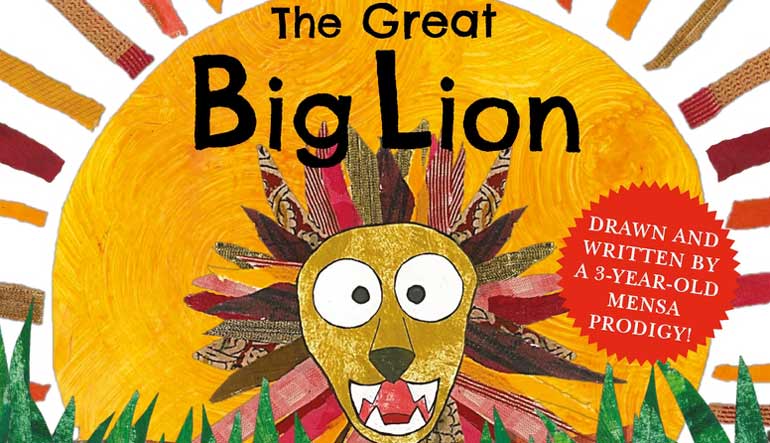 Let the Truth be known. If you read VB and like VB, please be a VB Supporter and Help us deliver the Truth to one and all.
---
---
A poster featuring Karnataka's Minister for Fisheries, Port, and Inland Transport, Mankal Vaidya, has stirred controversy as it circulates widely on social media. The poster supposedly conveys the minister's wishes to Republic Bharat on the launch of their Kannada News Channel.
Republic Network, led by Arnab Goswami, one of the news anchors who recently faced a boycott by the INDIA bloc alliance, owns and manages the Republic Network.
The viral poster suggests that it originally appeared on the minister's official Facebook page. However, Vartha Bharati, couldn't independently verify this claim because the minister's timeline lacked any such posts. Interestingly, several social media users assert that the post was later deleted from the minister's account.
The poster features Minister Mankal Vaidya's image alongside Arnab Goswami, accompanied by a quote congratulating Goswami on the launch of the new Kannada news channel.
The circulation of this viral poster has ignited debates and discussions on social media platforms.
When reached for comment, the minister's media team denied any involvement in posting such content and said they were investigating the origin of the poster.