In the aftermath of Australia's victory in the ICC World Cup 2023 against India, certain sections of Indian fans have resorted to targeting Australian cricketers and their families. The final, held at Ahmedabad's Narendra Modi Stadium, saw Australia defeating India, a team that had remained unbeaten in 10 consecutive ODIs before the summit clash.
The Australian team's success in silencing the 1.3 lakh-strong Indian crowd has unfortunately led to some fans venting their frustration on social media platforms, particularly targeting the wives of players such as Glenn Maxwell and Travis Head, the Player of the Match in the final for his outstanding 137 during Australia's 241-run chase.
Vini Raman, Glenn Maxwell's wife with roots in South India, faced abusive messages on her Instagram account. Responding to the negativity, she posted on her Instagram story, "Cue all the hateful vile DMs. Stay classy. Can't believe this needs to be said BUT you can be Indian and also support the country of your birth where you have been raised and more importantly the team your husband + father of your plays in #nobrainer. Take a chill pill and direct the outrage towards more important world issues."
Travis Head's one-year-old daughter, along with her mother Jessica Davies, also became targets of abuse, including rape threats.
Australia's victory marked their sixth in one-day international cricket, following their triumphs in 1987, 1999, 2003, 2007, and 2015. The win also broke the trend of home teams lifting the cup, as Australia achieved the title in India.
On the other hand, Team India faced disappointment and will have to wait for another opportunity to vie for an ICC title, having not won one in the last decade.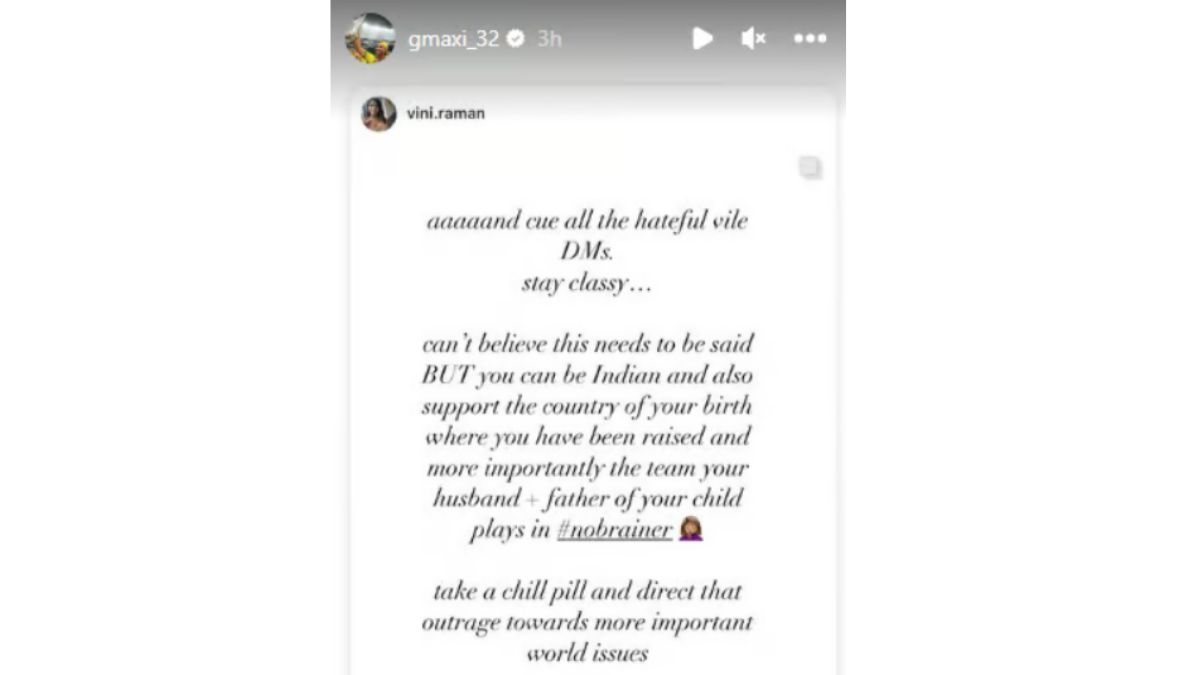 Let the Truth be known. If you read VB and like VB, please be a VB Supporter and Help us deliver the Truth to one and all.
---
---
New Delhi, Dec 11: India has described as "fake" and "completely fabricated" a media report claiming that a "secret memo" was issued by New Delhi in April to take "concrete" measures against certain Sikh separatists, including Hardeep Singh Nijjar.
Ministry of External Affairs (MEA) spokesperson Arindam Bagchi said on Sunday that the report is part of a "sustained disinformation campaign" against India and the outlet that published it is known for propagating "fake narratives" peddled by Pakistani intelligence.
The report was published by online American media outlet "The Intercept".
"We strongly assert that such reports are fake and completely fabricated. There is no such memo," Bagchi said.
"This is part of a sustained disinformation campaign against India. The outlet in question is known for propagating fake narratives peddled by Pakistani intelligence. The posts of the authors confirm this linkage," he added.
"Those who amplify such fake news do so only at the cost of their own credibility," Bagchi said, responding to media queries on the report.
In September, Canadian Prime Minister Justin Trudeau levelled the allegation of "potential" involvement of Indian agents in the killing of Khalistani extremist Nijjar on Canadian soil on June 18.
India strongly dismissed the charges, terming them "absurd".
"The Intercept", in its report, claimed that the Indian government issued instructions on a "crackdown scheme" against certain Sikh entities in western countries.
It further claimed that the secret memorandum issued by the MEA in April lists several "Sikh dissidents under investigation by India's intelligence agencies, including the Canadian citizen, Hardeep Singh Nijjar".